Maundy Thursday in the Church
How do churches mark Maundy Thursday?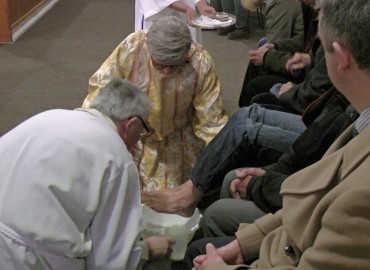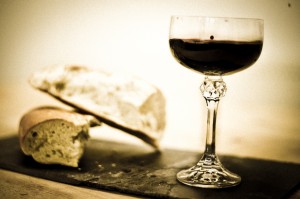 Even if a church does not hold a specific Maundy Thursday service, the Last Supper is remembered regularly in the majority of Christian churches through the communion service or shared meal. these can be held as often as once a week by some.
A Maundy Thursday service is a time when people meet together for a shared meal and have a communion service together.
In many Roman Catholic and in some Church of England churches, services are held on Maundy Thursday that re-enact the things that Jesus did at the Last Supper.
Three things happen:
The Ministers wash the feet of twelve members of the church, remembering that Jesus washed the feet of his twelve disciples. In some churches the Priests dress as Deacons, wearing their stoles diagonally. A Deacon's job is to serve the people.
Broken bread and wine are shared in Holy Communion to remember the meal that Jesus shared with his disciples
The service ends with a 'Prayer Watch' or 'Prayer Vigil' to remember that Jesus asked his disciples to pray with him after the Last Supper.
Did you know?
In England it is traditional for the King or Queen to give out Maundy money to some of their people, often to elderly people who are in need. This is a small bag of silver coins that have been specially made for the occasion. The tradition of giving Maundy money began in 1662 when the reigning monarch stopped the practice of washing the feet of some of his people and decided to give money to the poor instead.
Bookmark