Believer's Blog: Divorce
'My story of a broken marriage'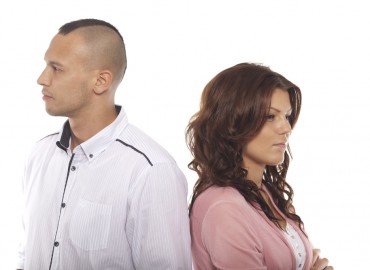 Jenny is a Christian. In our guest blog, she shares about her experiences of marriage and divorce.
"Like many teenage girls, I dreamed of the day when I would have a loving husband, a nice home and a happy family of my own.
"By the age of 23 my dreams were coming true; I was married to a very lively, fun person, who was totally devoted to me. We had a little council house and our first baby son. I had completed my nurse training and was able to work nights and bring in some desperately needed extra cash for the bills.
"I have been a Christian since I was about eight years old. I can still remember the club leader who challenged me: Did I just believe about Jesus, or did I really belong to him? That night I prayed to ask Jesus to forgive me for the wrong things I had done, and accept me as one of his own children.
"For a while I really believed my husband when he said he shared my faith. He certainly said and did the right things, but looking back now I can see he was just trying to please me.
"I soon discovered my devoted loving husband could change in moments to a violent and manipulative alcoholic. There followed years of violence, deceit and debt. Attempts to 'dry' him out in hospital all failed. No job lasted more than a few months.
"But by the time our eldest son started secondary school, it seemed that my prayers were answered. We had enjoyed three years of relative tranquility. My husband had settled in a good job, we had paid off a lot of our debts and I was sure that our relationship was strong. One day we heard that a close friend had been deserted by her husband. We were both really upset. We were both convinced that this could never happen to us … We had been through so much together!
"A few weeks later, I was driving home from work after a night shift. It felt like at last there were no dark clouds over my life. And then the very next evening my husband did not arrive home from work. He rang to say he did not love me. The following weekend I found he was staying with another woman!
"I was stunned, devastated, shaken to the very core of my being. Nothing could have been further from my mind. I really believed that this could not happen to us.
"As things developed, I went through moments of total despair. One of the toughest things was facing the fact that he was giving love to someone else, when he was mine. At times I really believed it would have been easier if he had died. I was suffering all the symptoms of grief, but he was still alive and coming back into my life when it suited him to cause further anguish. The betrayal was so hard to cope with.
"For months I fought to save our marriage. I tried to blame myself. My self-esteem plummeted; I thought I was unlovable and unattractive. I was adamant that I would not agree to divorce; I had married for life, I meant my vows and I was determined to still carry on loving.
"Despite everything, it gradually became obvious that there was not going to be any chance of reconciliation. Over the years I began to accept the situation and move on in my life. I eventually accepted that he had made divorce the only option.
"This all happened fourteen years ago, I am now very happily married again. The agony and heartbreak is a receding memory. Looking back I can begin to trace God's loving guidance through the trauma. I believe God has taught me many valuable lessons, and I am now a much stronger and happier Christian.
"At the time I was convinced that there was no way I could ever truly follow Jesus' teaching and 'love' and pray for those who were causing so much pain. Now I can begin to see that it is possible. The passage of time helps us to see events from a broader perspective, perhaps closer to God's much more complete view of the situation?
"If only we could accept that God can see these things, at the very time when we feel like we are buried in the fog of desperate circumstances. We cannot 'see' what is really happening in the larger picture, we must learn to trust our loving God who can!"
Bookmark