Alternatives to war
Is there an alternative to war?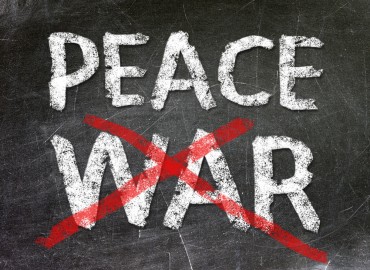 A pacifist is somebody who is pro-peace and firmly anti-war. Christian pacifists believe that all war is wrong, and refuse to participate in any action that promotes conflict.
Many Christians have become pacifists in the last century. This is not only because of their interpretation of Jesus' teaching, but through seeing the horrific consequences of modern warfare – the threat of mass destruction from nuclear bombs and chemical weapons.
Jesus clearly taught that the priority was to love and care for others: not to fight, but to pray about situations of violence and ask God to bring peace. Although his kingdom is not an earthly one, he taught his followers to bless (do good and help) the people around them. For Christians advocating pacifism, wars waste God-given resources, bring suffering and open the door to hatred, violence and murder. These are not Christian values.
In John's gospel, Jesus talks about himself as the good shepherd. He says Satan is like a thief. "The thief's purpose is to steal and kill and destroy. My purpose is to give life in all its fullness" (John 10:10). Nowhere in the New Testament does Jesus advocate war, but he encourages compassion. He himself died in a nation under harsh foreign rule, and did not praise freedom-fighters ('zealots').
Bookmark