Introduction to Christian Ethics
How do Christians decide what is right or wrong?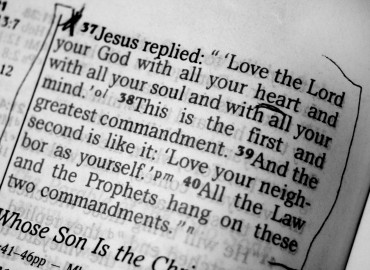 How do Christians decide what is right and what is wrong?
Christians ethics, that is the moral principles that govern how you live, are based on God's word as found in the Bible. Jesus taught that there are two commandments that should be at the centre of all ethical decisions:
The Two Great Commands
'One of the teachers of the law came and heard them debating. Noticing that Jesus had given them a good answer, he asked him "Of all the commandments, which is the most important?"
'"The most important one," Jesus answered, "is this: Hear, O Israel, the Lord our God, the Lord is one. Love the Lord your God with all your heart, with all your soul and with all your mind and with all your strength. The second is this: Love your neighbour as yourself. There is no commandment greater than these."' (Mark 12: 28-31)
According to Jesus, the two most important commandments are to love God and to love your neighbour. Therefore Christian morality and ethical decisions are based on LOVE that has its source in God.
What Does It Mean to Love God?
The word "love" used here is not used to describe a warm, fuzzy feeling. The New Testament in the Bible was originally written in Greek and the Greek word used here – agape – means being concerned for others, caring for them as much as you care for yourself. In this context, loving God means putting God first in your life. A Christian who loves God wants to do what is right in God's view.
Loving God is also closely linked to loving others: – "If anyone says, "I love God", yet hates his brother, he is a liar. For anyone who does not love his brother, whom he has seen, cannot love God, whom he has not seen. And he has given us this command: Whoever loves God must also love his brother." (1 John 4: 21)
So loving God and loving others are linked together. Christians are to love God and others because God loved them first.
What Does It Mean to Love Your Neighbour?
Again the word used in this passage for loving your neighbour is agape. The passage does not tell Christians to "like" or to "feel for" their neighbours. It means that Christians should be concerned for their neighbours and care for them as much as they care for themselves.
In Luke's Gospel (Luke 10: 25-37), in the Parable of the Good Samaritan, it shows that your neighbour is anyone who is in need of your help, not just your friends or someone who lives close to you. In the Sermon on the Mount (Matthew 5: 43-48) Christians are told to love their enemies and pray for those who persecute them. Christian morality, then, will have to consider the needs of others.
Bookmark