Women and the Church
How have attitudes changed?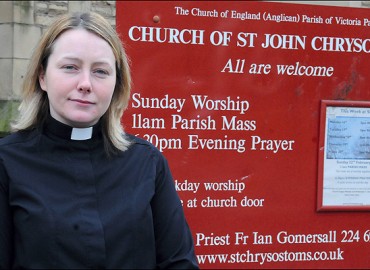 In Jesus' day, the Romans occupied Israel. They treated women as inferior, so Jesus lived in a climate of hostility and prejudice against women. His attitude, treatment and teaching about women was therefore revolutionary for its time and won him enemies as well as friends.
However, the Christian Church has not always followed its founder's example. The writing of St. Paul in the New Testament has caused much controversy and debate – for example, where he states women should not be heard in Church and the husband is head of the household. Some 'interesting' but nowadays unacceptable remarks have been made about women, by famous churchmen in history. In 584 AD. the Church Council of Macon, France debated 'Are women human?' The notion was carried by 32 to 31 votes. Many Christians at the time thought that women had no souls and were less holy than men. And from some other eminent churchmen:
'Any woman who acts in such a way that she cannot give birth to as many children as she is capable of, makes herself guilty of that many murders.' (St Augustine)
'Women should remain at home, sit still, keep house and bear and bring up children… If a woman grows weary and at last dies from child bearing, it matters not. Let her die from bearing – she is there to do it.' (Martin Luther)
And today?
The rights of women in both Church and Society have improved in Britain over the past 150 years. Significant changes include:
 1882: Married Women's Property Act – women could now keep their own property – not having to sign it over to their husbands.
 1892: Local Government Act – women could now vote in local elections and stand as councillors.
 1918: Representation of People Act – women over 3l could vote and stand as M.P.s.
 1928: Electoral Reform Act – women over 21 could vote and stand as M.P.s.
 1970: Equal Pay Act – equal pay for equal work, regardless of sex.
 1975: Sex Discrimination Act – it became illegal to discriminate on grounds of sex or marital status.
In the Church, many denominations welcome women leaders: for example, the Church of England, the Baptist church, the Independent church, the Methodist church amongst others.
In some of these, most particularly the Church of England, there is still on-going debate as to whether or not women should occupy the highest positions – that of bishop and beyond. The 18-20 November 2013 session of the general synod backed revised proposals, allowing the issue of whether to allow women bishops to be considered again at the synod's February 2014 session in London. Some church members however still hold what they see as traditional opinions of gender roles, based on their understanding of St. Paul's teaching in the New Testament.
Bookmark