Lazarus and the Rich Man – Meeting the needs of others
What did Jesus teach about looking after others?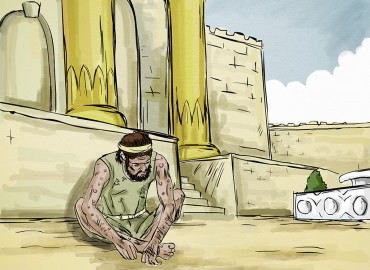 Have you ever given money to charity? Maybe you've bought the Big Issue or given to someone busking in the street? Perhaps you chose to give in other ways?
Jesus told a story about a rich man and a begger called Lazarus. In fact it's one of the only parables where a central character is named. Biblical scholars do speculate over why in this parable the beggar has a name. In medieval times the church believed Jesus could have been telling the story of a real rich man and a begger and that it should be interpreted as a cautionary tale of what to expect in the after life for those who act selfishly. Jesus himself had a close friend called Lazarus, perhaps that is where he got the idea for the name.
Whatever those listening to Jesus at the time thought, the parable of Lazarus and the rich man is most often used to show the importance of how we treat others while we are living on earth. Christians believe that every person is a neighbour and people should be good stewards of what they have – we all have a duty to act in an ethical way towards others.
The early Christians picked up on this. Hebrews 13:1-3 says "Keep on loving one another as brothers and sisters. Do not forget to show hospitality to strangers … Continue to remember … those who are ill-treated as if you yourselves were suffering."
The story illustrates that following Jesus requires self sacrifice – and to look beyond oneself. People shouldn't just look after themselves and focus on their own comfort but should be willing to see the needs of those around them and be willing to act. Find out more about what the Bible has to say about wealth.
 Is Jesus saying that the rich man should have invited Lazarus in to eat at his table?
According to the Old Testament if a person had a skin disease (in this case open sores) they were not meant to be mixing with others but were sent away from society. The rich man shouldn't even be allowing Lazarus to lie outside his gate let alone consider inviting him in for a meal.
There is something else happening within the story. Jesus doesn't commend the rich man for being "kind" by allowing Lazarus to lie at his gate nor does he condemn him for disobeying the Old Testament. So why is the rich man treated so harshly later?
It  could be that the rich man is indifferent –doing nothing to alleviate Lazarus' suffering or paying any attention to the Jewish law.  When the rich man experiences suffering himself he suddenly gets a taste of what Lazarus's life has been like. When the rich man begs Abraham (the father of the Jewish faith) to send Lazarus to him Abraham cannot, and when the rich man begs Abraham to send Lazarus to his family Abraham tells him that they should listen to Moses and the Prophets. The rich man replies:
'No, father Abraham,' he said, 'but if someone from the dead goes to them, they will repent.'
Abraham replied, "If they do not listen to Moses and the Prophets, they will not be convinced even if someone rises from the dead.'
Although the parable clearly demonstrates how we should treat others there is also a sting in its tail. The final conversation between the rich man and Abraham is not only referring to Lazarus but is also hinting towards something much bigger. When Jesus talks about people not turning from their old ways even when they see a person risen from the dead he is pointing to what will happen in the future when he is crucified and rises from the dead.
Click here to find out more about Jesus' death and resurrection.  
Bookmark