History of the Church of Scotland
How did the Church of Scotland begin?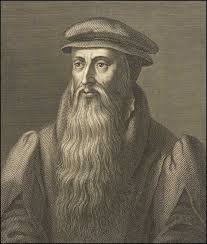 With over 400,000 members the Church of Scotland is one of the largest organisations in Scotland. But how did this Church begin?
At the heart of the Church of Scotland's history  is St Columba, the Irish prince-in-exile, who crossed to the island of Iona off the west coast of Scotland later in the fifth century. There on the island he established a community of monks who spread the Gospel far and wide through Scotland and the north of England. The first missionary to do this was St. Aidan.
The Middle Ages
In the centuries that followed, as Scotland developed as a nation, the Church moved away from its Celtic roots towards the Roman Catholic Church. This movement was supported and encouraged by people like Queen Margaret. Another deciding point was that the Pope allowed Scotland to be independent of England for church purposes.
Reformation
Further change, however, was on its way.  Throughout Europe in the 1500s there was a group of people who began to argue against the power of the Roman Catholic Church. This group became known as Reformers. John Knox was a Scottish clergyman and a leader of the Protestant Reformation in Scotland. He felt very strongly that the Church in Scotland should move away from Roman Catholic rule. Knox is famous for head-to-head debates with Mary, Queen of Scots: the Catholic Queen who returned from France and tried to remain loyal to the Roman system. By the end of the 1500s, the Protestant Church of Scotland had developed into a Presbyterian Church.
This new church (or the Kirk) had a new system of rule, known as Presbyterian. Unlike the Catholic Church the Kirk does not have one person who acts as the head of faith, as that role is the Lord God's. So nobody has more power or say than any other.  Kirk sessions oversee the life and work of  local churches. They are made up of local elders or leaders and the church minister. Its ultimate rule of faith and life is through the teachings of the Bible.
Bookmark