Monastic Life
Could you live the life of a Monk or Nun?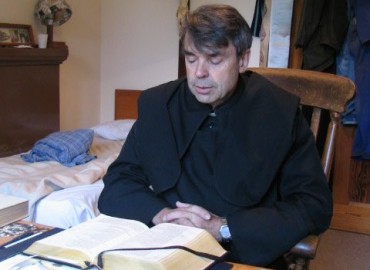 Western Monastic life began with Saint Benedict (480-547) when he started the first Benedictine Monastery at Monte Cassino, Italy, in 529AD. The monks and nuns lived in separate monasteries.
Even today, little has changed in the daily routine. The daily life is still guided by the "Rule of Benedict" based on a pattern of prayer and work. The Abbot is the spiritual head of the monastery and, once they have taken their vows, monks and nuns stay in the same monastery for the rest of their lives. The vows are promises of poverty, chastity and obedience – this means they do not own things, they stay unmarried and celibate, and promise to obey the leaders and "rules" of their order.
The Bible says:
"I will praise you seven times a day". (Psalm 119:164).

"At midnight I rise to thank you." (Psalm 119:62).
So the day revolves around a pattern of eight services (offices), which include prayers, chanting psalms, Bible reading and singing. This is called the 'opus Dei' – the 'Work of God'. A typical day looks like this:
2.00 am Matins
5.00 am Lauds.
7.00 am Prime
9.00 am Terce
12.00 Sext
3.00 pm None
5.00 pm Vespers
8.00 pm Compline
Bookmark