The Book of Kells
What makes this book so special?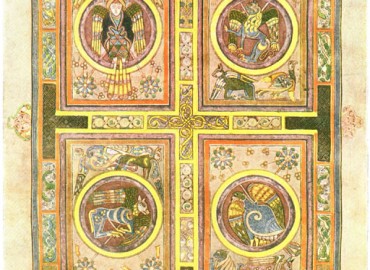 Celtic missionary monks did not stay all the time in monasteries – they travelled far and wide to spread the Christian faith. Their monasteries were centers of learning and bases for teaching about Jesus. In some areas, communities of nuns worked and lived alongside communities of monks. Celtic monks lived simple lives and walked everywhere – they said horses separated them from the people they might meet on the way. They also loved books and learning. Their monasteries produced beautiful writings like the famous 'Book of Kells'.
The Book of Kells is generally thought to have been written in the scriptorium of the monastery founded around 561 by St Columba on Iona. In 806, following a Viking raid on the island which left 68 of the community dead, the Columban monks took refuge in a new monastery at Kells in County Meath, taking the book with them. This amazingly beautiful manuscript contains most of the Four Gospels – Matthew, Mark, Luke and John – and has been described as 'the most precious object in the western world.' It is generally considered the finest surviving illuminated manuscript to have been produced in medieval Europe. 

The monks used animal skins from approximately 185 calves as the pages for the book and handmade inks to write and decorate them. Apart from two, every page is richly illuminated and the text often contains brightly coloured birds, animals, faces and figures humorously combined with the letters. The peacock is used as a symbol of Jesus' resurrection.
Bookmark