Martin Luther King
Is anything worth dying for?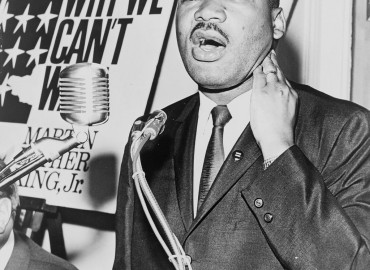 Martin Luther King lived in America from 1929 to 1968 at a time when discrimination against black people was far too common. Even though slavery had been abolished in 1869, most black people still lived in poverty. Black people earned half the amount white people earned; many could not vote. They lived in ghettos and they were often segregated in public places.
King was a Baptist Minister who in 1955 became the president of the Montgomery Improvement Association. In Montgomery, black people were made to sit on the back of buses and always had to give up their seat should a white person want it. When Rosa Parks, an elderly black woman, refused to vacate her seat, she was arrested. King held firmly to the belief that God created all people equal and that all people were made in His image and likeness (Genesis 1:27). This treatment of Rosa Parks went against this teaching. King and other community leaders decided it was time to act. They had had enough of being treated unfairly.
A meeting was called (later to be known as the Montgomery Improvement Association) which decided to call on all black people to stop using the buses. This was called a 'bus boycott'. After 381 days with buses being virtually empty (costing the company lots of money), the government passed a law to state that it was illegal to segregate black people from white people on the buses. This was a victory for Martin Luther King and his beliefs in non-violent direct action.
In subsequent years, Martin Luther King campaigned tirelessly despite many threats to his life. He organised freedom marches, 'sit-in's', silent protests and gave many fine speeches protesting against injustice. Much of his inspiration and example came from the Indian reformer Mahatma Gandhi – another person who believed in peaceful action. Above all else Martin Luther King took his strength from his faith in God and his Christian beliefs. He constantly stressed the need to love your enemies and pray for those who persecuted them (Matthew 5:43-48).
Throughout his life Martin Luther King was confronted by violence. His home was bombed, he was stabbed and his family received death threats. However through all of this he never resorted to violence. His Christian beliefs told him that violence and hatred could only be conquered by love and forgiveness. In 1964 Martin Luther King was awarded the Nobel Peace Prize.
On April 4th 1968, at the age of only 39, King was shot dead leaving his hotel room. Despite his death his legacy lives on. Others carried on his work and still today all Americans remember his life on Martin Luther King Day.
Bookmark