The Free Church of Scotland
What is worship like?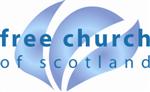 The Free Church of Scotland has around 100 congregations all over Scotland and approximately 12,500 people attend worship each week. The Church is "Presbyterian", which means that decisions are made by a board of elders who are chosen from the congregation. It is Reformed, which means that its teaching is Biblical, and follows the pattern of belief established at the Reformation in the 16th Century.
The Free Church was established in 1843 and got its name and distinctive nature from a desire to remain free from any government influences. The Church stands firmly in the tradition which accepts the Bible in its entirety as the Word of God and, therefore, all its forms of teaching, worship, ministry and government are based in Biblical teaching.The main emphasis of the Church's worship is the preaching of the gospel – the good news of forgiveness, and a new life through the death and resurrection of Jesus Christ alone.
Worship in the Free Church features simple Biblical praise. Most of the churches historically sing unaccompanied Psalms but some have chosen to add Biblical hymns with simple accompaniment.The central focus of the church's worship is the Lord Jesus Christ who they believe is the "Word made flesh".
The church believes that all their worship must be guided and helped by the Holy Spirit. This is also true for their everyday lives too.
Bookmark