Cornish Saints – Saint Endelienta, Minver and Cleer
What is important about the saints?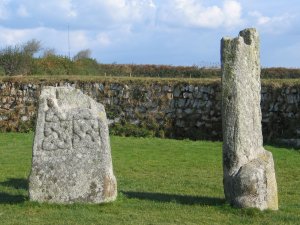 Saint Endelienta
Feast day: 29th April
Saint Endelienta was a daughter of King Brychan, who settled in Saint Endellion and taught the Christian faith. Two nearby wells are named after her. Wells were a source of water used for baptism and other religious purposes. Saint Endelienta's altar tomb is still in the church.
Saint Minver
Feast day: 24th November
Saint Minver was another daughter of King Brychan. King Brychan's twenty four children started churches throughout Cornwall, England and Wales. Her hermitage, chapel and holy well were at Tredizzick, which is not far from the present church and town of Saint Minver. This religious settlement would have formed a base for spreading the Christian faith in the area. One of the popular stories about Saint Minver says that the devil attacked her when she was combing her hair. She threw the comb at him and he ran away.
St. Cleer 
Feast day: 4th November
St. Cleer was an Englishman who came to Cornwall in the 8 th or 9 th century (between 700 and 900 CE). He preached and built a church on the edge of Bodmin moor – today's village of St. Cleer. The village also has a holy well and two ancient Celtic crosses. St. Cleer was a monk devoted to a life of celibacy, but a local chieftainess fell in love with him and pursued him. When he fled to a lonely hermitage in France, the lady was furious and had him murdered.
Bookmark