Life in a Christian family
What roles do men, women and children have?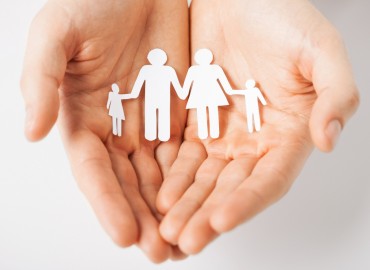 Like all families, Christian families come in all shapes and sizes.  There are some key guidelines in the Bible to help Christians in family life.  Christians believe that men and women are equal in God's eyes (Galatians 3: 26 – 29). The Bible contains lots of ideas about the different roles men and women should play within marriage, and advice about how to get along as a family.
Husbands and wives
Some Christians believe that within marriage the husband is the head of the wife. This is based on the teaching of St Paul, found in the New Testament:
'Wives, submit to your husbands as you do to the Lord. For a husband is the head of his wife as Christ is the head of his body, the church.' (Ephesians 5: 22 – 23)
Although this sounds a bit like a husband is given authority to boss his wife around, this is only one half of the story. The verse shows that the marriage relationship is supposed to mirror the relationship between Christ and the Church. As Christ came to serve, care and even die for others, so husbands are commanded to love their wives in the same way. St Paul says:
 "A husband should love his wife as much as Christ loved the church and gave his life for it… A husband should love his wife as much as he loves himself" (Ephesians 5:25-28).
In other words, a husband's love is to be selfless, putting his wife's needs before his own. This teaching would have been radical 2000 years ago.
Raising children
Children are seen as a blessing from God. Christians believe that when God made the world, he did not want it to be empty (Isaiah 45: 18). In the Bible, Adam and Eve, the first humans, are commanded by God to, "Multiply and fill the earth" (Genesis 1:28), so having children is part of God's plan. Christians believe that God creates all living things, including babies.
In the Ten Commandments, children are told to honour their parents (Exodus 20: 12). This commandment is repeated in the New Testament of the Bible, where children are told to obey their parents (Ephesians 6:1 – 4).
Fathers are told:
not to exasperate (that is, wind up) their children
to bring them up to know the Christian faith
to discipline their children
Christians feel it is right for them to teach their children about Christianity. Some Christians (Anglicans, Roman Catholics, Orthodox and Methodists for example) will baptise babies, as a symbol of the first step in their Christian life. Others have a ceremony of dedication (Baptists, Pentecostals, Brethren etc.) to thank God for their baby, and to dedicate the child to God, and the parents to the task of bringing the child up in the Christian faith.
There are also ceremonies for when the person decides to take the faith on as their own, when they are of an age to understand what the faith is about – confirmation for those who practice infant baptism, and believer's baptism for those who have dedication services. Christians do not believe that you are a Christian simply because your parents believe, but because you have chosen the faith for yourself.
Bookmark