Jesus' miracles: Healings
What happened when Jesus met people who were unwell?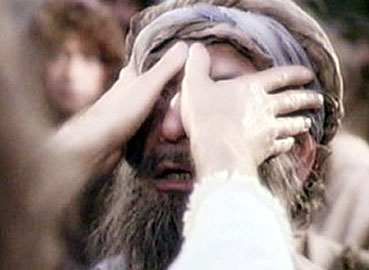 The stories about Jesus tell us that he healed many different people with all kinds of problems. The blind, the deaf, those who could not speak and those with diseases all found healing by Jesus' touch or his command. But Jesus is also seen to heal people's minds and spirits, bringing God's peace or 'shalom' to every part of people.
The ability to make people better is one of the signs that Jesus came from God, the One who makes all things and can repair them. On some occasions (for example, in the story of the Roman centurion's servant in Matthew 8:5-13) he is asked to heal someone that he does not actually meet. He just says they are healed, and they are. This is a sign of Jesus' power and authority over sickness.
One example of a healing miracle is Blind Bartimaeus.  In this story, Jesus and his disciples where in the city of Jericho. Bartimaesus was sitting by the road. He was blind, and had to beg for money from strangers to stay alive. He shouted at Jesus, " Son of David have mercy on me."
Despite the crowd around him, Jesus stopped and asked his disciples to bring the man to him. Bartimaeus  responded  by standing up, jumping to his feet and moving in the direction of Jesus.  Jesus asked him a simple question: "What do you want me to do for you?"
The blind man told him that he wanted to be able to see. Jesus told him to go as his faith had made him well. Bartimaesus' sight returned immediately and he began to follow Jesus on the road.
For Christians, Jesus' healing miracles are a sign that God cares for people and wants to make them well again. A lot of Christians believe they should follow Jesus' example. This might mean praying for people who are sick, believing that God will make them better. Some may choose to work or volunteer in healthcare. Some might donate money to help provide medicine and health supplies in parts of the world where it is needed.
Bookmark