The Sermon on the Mount – The Law
What should our attitude to the law be?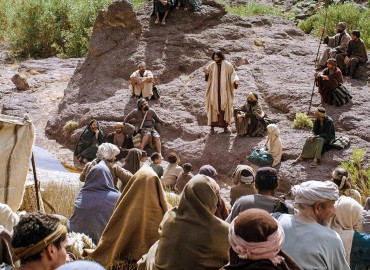 Ever listened to a lecture or a speech or even a sermon? What was it like? Did you enjoy it?
When we read "The Sermon on the Mount" at first glance it can seem like a long sermon or lecture. And yet this was like no other sermon ever before. To the  listening audience this teaching was radical – what Jesus taught literally tipped the world order on its head.
Imagine the scene: You are in the crowd excitedly awaiting Jesus – a young new Rabbi (teacher) from Galilee.  You've heard the rumours about his interpretation of the Jewish law and some of his teaching about how we should live and even the way he lives himself. Now you've come to hear him. You see Jesus approaching as he makes his way down the mountainside and a hush descends… What will he say this time?
Jesus' Teaching on The Law
It's really important to Jesus that respect is shown to the Law of Moses and he refuses point blank to ridicule or remove any aspect of it. Instead he tells people that he is the fulfilment of the law, that is he has come to make the teachings of the law complete. He is the living example of how the law should be lived out in everyday life. Jesus teaches that the Commandments are meant to be kept but just as important as the actions is the motivation behind the them. Jesus talks about the state of a person's heart that makes them "clean" or "unclean".  At one point in Jesus' teaching on murder he makes the amazing declaration that even thinking badly about a person is the equivalent of murder.
Jesus is saying that the law must go beyond outward appearances and needs to be in people's hearts, minds and consciences. "I have not come to do away with them, but to fulfill them." Matthew 5:17. Christians understand Jesus as the one who fulfilled the law of Moses by living a life in full obedience to it but at the same time emphasising that love is the reason for these laws and love should be at the heart of how life is lived and the law lived out.
Find out more about what Jesus has to say about the law in The Greatest Commandment.
Find out more on other key topics in the Sermon on the Mount: Teaching on Anger , Prayer and Judging Others
Bookmark