RE:QUEST
A space for resources to help RE teachers and their students explore the Christian faith
"A huge resource to treasure."
Lat Blaylock, Editor, RE Today
We are delighted to share with you our library of resources. You can use the filter feature below to find topics most relevant to your curriculum.
UNDER_GROUND: Jon Jackal
What made Jon decide to become a Christian?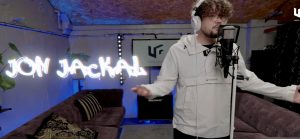 Jon from Youth for Christ's UNDER_GROUND is usually to be found interviewing Christian rappers for the channel, but today he's the one throwing down the track.
Jon grew up in Rugby, a normal lad doing what many consider normal lad things do. However, he soon realised that the life he was living was empty, so gave his life to God. He became a singer, touring with a band through The Message Trust, based in Manchester.
Today he works for Youth for Christ, as Head of Missions, creating material and co-ordinating their UNDER_GROUND YouTube channel. Under the name 'Jon Jackal,' he still performs occasionally.
Watch the video to listen to his autobiographical track, which details the reason for his decision to become a Christian. Once you've watched it, answer the following questions:
Why did Jon become a Christian?
How has his faith affected his life?