RE:QUEST
A space for resources to help RE teachers and their students explore the Christian faith
"A huge resource to treasure."
Lat Blaylock, Editor, RE Today
We are delighted to share with you our library of resources. You can use the filter feature below to find topics most relevant to your curriculum.
UNDER_GROUND: Saint CJ
How did rapper Saint CJ become a Christian?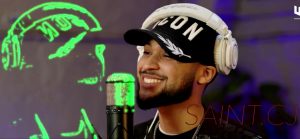 Jon from Youth for Christ's UNDER_GROUND, interviewed Christian rapper Saint CJ after he had kindly thrown down a track for them.
Saint CJ is a multi-talented Christian artist and creative from South East London. A singer, rapper, dancer, BRIT School graduate, he is also a signed recording artist with the Urban Gospel Record Label 'Imprint Music.'
He got into all manner of trouble as a teenager, running with a bad crowd, and eventually getting arrested for physical assault.
Watch the interview to hear all about his faith journey, then check out the freestyle track he recorded especially for UNDER_GROUND. Once you've watched both, answer the following questions:
What is the meaning behind Saint CJ's name?
How did Saint CJ become a Christian?
How has his faith affected his life?
What does he mean when he says that God has set him free from things that held him back?
How does his music reflect his faith in God?