RE:QUEST
A space for resources to help RE teachers and their students explore the Christian faith
"A huge resource to treasure."
Lat Blaylock, Editor, RE Today
We are delighted to share with you our library of resources. You can use the filter feature below to find topics most relevant to your curriculum.
Christian Teachings About Raising Children
Belief in God
The family is very important to Christians. It is a place of security and love for bringing up children. It is also a place where Christians introduce their children to the Christian faith,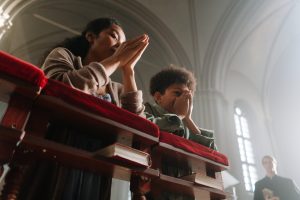 Christians take their children to church, encouraging them to go to Sunday School, teaching them how to pray and worship. Alongside this, parents also teach children about Christian beliefs and values, such as love, justice, and forgiveness.
Bible Teachings About Raising Children
Christians do all of this because the Bible teaches them about bringing their children up as Christians.
'Teach children how they should live, and they will remember it all their life.' Proverbs 22:6

'Parents, do not treat your children in such a way as to make them angry. Instead, raise them with Christian discipline and instruction.' Ephesians 6:4

'Never forget these commands that I am giving you today. Teach them to your children. Repeat them when you are at home and when you are away, when you are resting and when you are working.' Deuteronomy 6:6-7
These verses show Christians that they have a God-given responsibility to give their children a Christian upbringing.