RE:QUEST
A space for resources to help RE teachers and their students explore the Christian faith
"A huge resource to treasure."
Lat Blaylock, Editor, RE Today
We are delighted to share with you our library of resources. You can use the filter feature below to find topics most relevant to your curriculum.
Christian Persecution Across the World
The work of Open Doors...
Open Doors is a Christian organisation that provides support to persecuted Christians across the world. They estimate that there are over 340 million Christians suffering persecution across the world today.
The map below shows where Christians are persecuted in the world, with the countries shaded in orange and red showing where the persecution is. The countries shaded in red indicate those where Christians experience the worst persecution: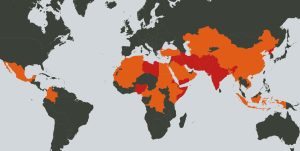 As of October 3, 2023, the five worst countries to live in the world as a Christian are:
North Korea
Somalia
Yemen
Eritrea
Libya
A staggering 5,621 Christians were murdered for their faith last year, 89% of whom were in Nigeria. Additionally, 140,000 Christians were displaced due to persecution, the majority of whom are from Myanmar.
The rankings change regularly, but you can read the full, up-to-date list here.
What types of persecution do Christians face?
In these and other countries, Christians experience discrimination on a daily basis. They face loss of human rights, including harassment, closure of businesses and churches, beatings, arrest and sometimes even death. In many of the countries on the Open Doors list, Christians have to meet in secret as there are laws banning churches from operating.
Sadly, it is estimated that 5,859 Christians were killed last year across the world because of their faith. In the worst of these countries, for example, North Korea, many Christians are rounded up and placed in labour camps, where conditions are so appalling many don't come out alive. In other countries, Christians are simply killed for not converting to the ruling party's faith.
What does Open Doors do?

Open Doors raises awareness of the issues that these Christians face so that the worldwide Church can pray for them, whilst also raising money to help support them in any way they can. They often send Bible resources to Christians unable to buy any. Over the previous year, it has been involved in sending vaccines and COVID aid to those Christians unable to access them.
Click here to access a lesson plan and resources from Open Doors exploring social justice.