RE:QUEST
A space for resources to help RE teachers and their students explore the Christian faith
"A huge resource to treasure."
Lat Blaylock, Editor, RE Today
We are delighted to share with you our library of resources. You can use the filter feature below to find topics most relevant to your curriculum.
Saint Patrick
Patron saint of Ireland
Saint Patrick is the patron saint of Ireland. His is remembered and celebrated across the world on March 17th every year, the date on which he died around 490AD.
He wasn't actually Irish, however, He was actually born around 420AD in Roman Britain. Whilst people can't agree on the exact place, most believe he was born in England. He is famous for bringing Christianity to Ireland.
HOW DID HE END UP IN IRELAND?
When Patrick was 16 years old, his family was attacked by some Irish raiders. They took him back to Ireland, where they kept him as a prisoner for six years.
It was while he was a prisoner that he turned to God, and embraced the Christian faith. His father was a church deacon and had brought him up as a Christian, so he knew all about Christianity. After six years, Patrick walked to the Irish coast, escaping on a boat back to England and his family.
HIS RETURN TO IRELAND
Safely back in England, he had a dream wherein an angel presented him with a letter begging him to return to Ireland. He believed this was God calling him to evangelize the Irish people, to tell them all about God. He undertook religious training, before returning to Ireland. Upon his return, he travelled around the country doing just this, baptising everyone who rejected their pagan religion to become a Christian.
SAINT PATRICK'S MIRACLES
There are legends about Saint Patrick's miracles that are still talked about today. He was alleged to have driven all the snakes from Ireland where they all perished, never to bother humans again. It is also believed that he prayed and saw 33 men raised from the dead!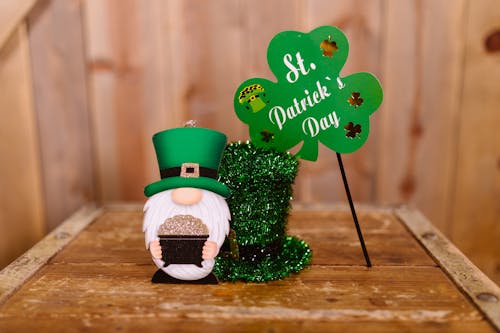 SAINT PATRICK IN POPULAR CULTURE
Today, people all over the world celebrate Saint Patrick's Day. The colour green is commonly associated with the day, along with the shamrock, a type of clover and the national flower of Ireland. This is because Saint Patrick is believed to have used the shamrock to help people understand the Trinity.
The shamrock has three leaf sections, on one stalk. The Trinity, he showed, was exactly like this: three-in-one.