RE:QUEST
A space for resources to help RE teachers and their students explore the Christian faith
We are delighted to share with you our library of resources. You can use the filter feature below to find topics most relevant to your curriculum.
Relationships: Biblical Teaching on Roles Within Marriage
What roles do men and women have?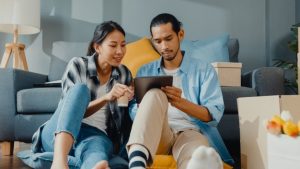 There are some key guidelines in the Bible to help Christians in family life, particularly with regard to the different roles of men and women.
Equality
Christians believe that men and women are equal in God's eyes. The Bible says that in the beginning, God created humans to be like himself.
 'So God created human beings, making them to be like himself. He created them male and female.' Genesis 1:27
This makes it clear that God created men and women to be equal. He created them to be like himself, in his image. There is no indication here that God considers one to be better or more important than the other. They are simply 'like himself.'
We also read in the New Testament that men and women are to be treated as equal:
'There is neither Jew nor Gentile, neither slave nor free, nor is there male and female, for you are all one in Christ Jesus.' Galatians 3:28
Roles Within Marriage
The Bible also contains ideas about the different roles men and women should play within marriage. The book of Ephesians lays out clear teachings about how men and women should behave towards each other:
21 Submit yourselves to one another because of your reverence for Christ. 22 Wives, submit yourselves to your husbands as to the Lord. 23 For a husband has authority over his wife just as Christ has authority over the church; and Christ is himself the Savior of the church, his body. 24 And so wives must submit themselves completely to their husbands just as the church submits itself to Christ.
25 Husbands, love your wives just as Christ loved the church and gave his life for it. 26 He did this to dedicate the church to God by his word, after making it clean by washing it in water, 27 in order to present the church to himself in all its beauty—pure and faultless, without spot or wrinkle or any other imperfection. 28 Men ought to love their wives just as they love their own bodies. A man who loves his wife loves himself. 29 (None of us ever hate our own bodies. Instead, we feed them, and take care of them, just as Christ does the church; 30 for we are members of his body.) Ephesians 5:21-30
Although verses 22-24 makes it sound like husbands can boss their wives around, this is only one half of the story. The verses following show that the marriage relationship is supposed to mirror the relationship between Christ and the Church. As Christ came to serve, care and even die for others, so husbands are commanded to love their wives in the same way.
So, husbands are told to give everything up for their wives, even their lives if necessary. In return, wives are told to submit to their husbands; to honour, love, respect, and serve them. This teaching would have been radical 2,000 years ago!
This type of relationship reflects the relationship between the church and Christ: mutual love, support, and sacrifice.
Reflect How do you think husbands should treat their wives and vice versa?