RE:QUEST
A space for resources to help RE teachers and their students explore the Christian faith
"A huge resource to treasure."
Lat Blaylock, Editor, RE Today
We are delighted to share with you our library of resources. You can use the filter feature below to find topics most relevant to your curriculum.
The Hospice Movement
What is the Christian alternative to euthanasia?
A hospice is a healthcare facility dedicated to the care of terminally ill patients. The first hospice in the UK - St Christopher's - was established by Dame Cicely Saunders in 1967. St Christopher's Hospice was the first healthcare facility in the UK that connected medical pain control and compassionate care, to provide a place specifically for the terminally ill go in order to end their life with dignity, surrounded by care.
Today there are over 200 hospices in the UK, which support c.225,000 people with terminal and life-limiting conditions in the UK each year.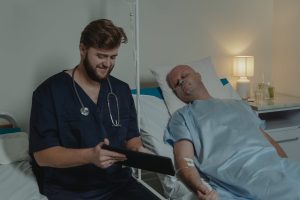 Many of them have been set up by Christians who believe they are the best alternative to active euthanasia. Roman Catholics in particular, are active in the hospice movement.
Hospices are not funded by the government. They are paid for by fundraising, donations, and money left in wills. Sadly, there are not enough hospices to meet the demand for beds.
What do hospices do?
The purpose of hospices is to care for and support terminally ill patients, alongside their families and friends. There are 3 main aims of hospice care:
To relieve pain. Hospice staff believe all pain, however severe, can be brought under control, allowing for a peaceful and relatively pain-free death.
To help patients, friends and relatives face up to death. Although many hospices are Christian foundations, no attempt is made to persuade patients to become Christians. Opportunities are given to the patients and to family members to discuss death and dying.
To care for the emotional needs of friends and family. Hospices help families cope with bereavement before, during, and after the death of their relative.
The hospice movement believes that patients should be encouraged to have a life even while they are dying. In a hospital, the patient wouldn't be given the personal care he/she would receive in a hospice. For example, in a hospice, hairdressers come in and patients can have manicures. They are encouraged to get dressed and get up rather than stay in bed.
The first time a patient may only stay for a couple of weeks to give their carers a rest or to sort out the correct pain relief. As the illness progresses, he/she might stay for longer. If they wish to die at home, nurses attached to the hospice can often support patients at home.
Many who do not support euthanasia believe that hospices allow people to die with dignity.
If the pain is kept under control, the individual can live a quality life, right up until the moment they die. Many Christians support the hospice movement and believe that if there were enough spaces available for all who wished to go there, that euthanasia would not be needed.
You can find out information about a working hospice here.
TASK:
Google 'hospice' in your area to find out about a local example of one in your community. Create a fact file about the work that it does.
Did you know?
Dame Cicely Saunders set up St. Christopher's Hospice, London, in 1967. She believed that hospices mean euthanasia is unnecessary. In her words,
'Anything which says to the ill that they are a burden to their family and that they are better off dead is unacceptable. What sort of society could let its old folk die because they are in the way?'
Find out more about St Christopher's Hospice
here.