RE:QUEST
A space for resources to help RE teachers and their students explore the Christian faith
"A huge resource to treasure."
Lat Blaylock, Editor, RE Today
We are delighted to share with you our library of resources. You can use the filter feature below to find topics most relevant to your curriculum.
International Justice Mission
A Christian response to suffering
In our guest blog, our friends from the International Justice Mission offer their thoughts on the world's biggest problems, and how they are trying to solve them.
According to the United Nations, 4 billion people worldwide live outside the protection of the law. That means their public justice systems – their police, courts, and laws – are so broken, corrupt and dysfunctional, that there is nothing to shield them from violence.
And it is the poorest people who are often the worst affected. For many poor people throughout the third world, the everyday reality is that they have to live with the threat of violence from gangs, neighbours, and even in some cases the police and all without the hope of any form of justice.
If you still need convincing, here are some stark and sobering facts:
Today, more than 45 million children, women, and men are held as slaves.
Nearly 2 million children are exploited in the commercial sex industry and for millions more, sexual violence is part of childhood.
Millions of vulnerable widows and orphans live in fear of being chased away from their rightful homes by more powerful neighbours.
What is our part in all of this? 
The Book of Micah (found in the Old Testament) states:
'The LORD has shown you, O mortal, what is good.
And what does the Lord require of you?
To act justly and to love mercy
and to walk humbly with your God.' (Micah 6: 8)
So with this is mind, what is a Christian response to the injustice in this world?
International Justice Mission (IJM) is a global organisation that protects the poor from violence around the developing world. Although founded and headquartered in the US, IJM works on the front lines in 16 communities throughout Africa, Latin America, South Asia, and Southeast Asia. IJM's UK office is applying this global experience to strengthen the UK justice system and encourage the UK to lead the way in addressing everyday violence, both globally and locally.
IJM is the largest anti-slavery organisation today. But it is also working to combat sex trafficking, rape, police brutality, property grabbing, and other forms of violence.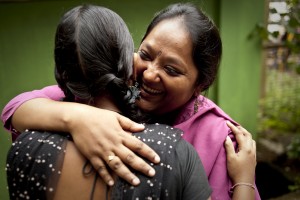 Click here, or on the image, to find out more about the work of IJM UK