RE:QUEST
A space for resources to help RE teachers and their students explore the Christian faith
We are delighted to share with you our library of resources. You can use the filter feature below to find topics most relevant to your curriculum.
Community Worship
Why do Christians worship together?
Most people have experienced some form of community worship at some time. Whether that's in a religious building, a prize-giving ceremony, a school assembly with a thought for the day or even celebrating together at a football match.
Worship means to show worth. Christians believe that God should be the main focus of their lives so everything they do should be an act of worship to God in the way they live and treat others. Worship may involve times of private devotion but worship could be checking up on a neighbour who needs support, giving money to charity or even cleaning up after a messy household.
Many Christians feel that it's important to engage regularly with other Christians and will attend a local church. Some churches may meet in designated church buildings, some will meet in schools, town halls, cinemas, sports grounds or even homes.
It is important to remember that the people are the church and not the building. In general, Christians believe that it's important to encourage each other, pray for each other, support each other and help each other in their journey of faith and welcome those who wish to explore faith in God.
When churches meet together, worship can happen in a variety of ways. Most churches have a time of worship on Sunday but this may vary from place to place. Some Churches meet at different times throughout the week and many run other forms of service such as lunch clubs, parent and toddler groups, youth clubs, football teams or house groups where people eat together or the Bible is studied together.
Fellowship
By worshipping together the church community experiences fellowship with God and each other and in the words of St Paul come together as "the body of Christ".
When churches come together for a specific time of worship such as a Sunday service, they can be very structured and perhaps have a fixed form of words or liturgy. Priests may wear elaborate vestments, use incense, choirs may sing music they have practiced and there may be a focal point in the service like communion or a sermon preached.
Some churches include music, and this may involve playing instruments and singing. Some services are less structured and people may pray out loud, share a word from the Bible, or dance and clap. Sometimes there can be a party atmosphere especially if it's a special time of year like Easter or Christmas. Some churches like the Quakers meet in silence and speak or sing when they feel God prompts them to.
Spending time with people is a very human thing to want to do. Worshipping together provides a sense of connectedness for Christians helping them to love one another, others in their community and be reminded of the wider world community. Remembering that ultimately they are brothers and sisters together in God's family.
You can find out more about different types of community worship here.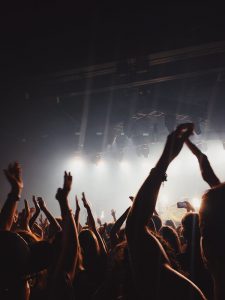 'Let us not give up the habit of meeting together, as some are doing. Instead, let us encourage one another all the more since you see that the Day of the Lord is coming nearer.'       
Hebrews 10:25 Christians have been meeting together for centuries and the book of Hebrews - which was a letter sent to the early church - reminded believers that it was really important that they spent time together. In the early second century, a Christian called Justin said that on Sundays the church would meet for as long as they could and that they listened to 'memoirs of the apostles' (the gospels). Have you ever been to a service in a Christian Church? Maybe this is something you do regularly or not at all. Is there something that you like to do regularly where you meet with others in the community? Maybe you go to football matches, cheering on your team? Or to a gig where your favourite singer is, joining in with thousands, singing the songs you know really well? Would you think of this as worship?