RE:QUEST
A space for resources to help RE teachers and their students explore the Christian faith
"A huge resource to treasure."
Lat Blaylock, Editor, RE Today
We are delighted to share with you our library of resources. You can use the filter feature below to find topics most relevant to your curriculum.
Pilgimage: St Davids Cathedral
Why is St Davids Cathedral a place of pilgrimage?
Since the 6th century, there has been a church on the site of St. Davids Cathedral. For the past 1500 years, prayer and worship have been offered to God on a daily basis, and this continues to this day.
WHO WAS ST DAVID?
David was born in the year 500 AD, the son of St Non; a prince of Ceredigion. Legend states that Non gave birth to him on a clifftop during a violent storm. Dewi Sant (or St. David, in English) was the only one of the patron saints who was born in the country he is remembered in.
David traveled widely, telling people about Jesus. He was known as the 'Water Man' because he never drank alcoholic drinks, and he stood in cold water to help him concentrate on God.
He founded a monastery in St. Davids, where the cathedral now stands. David eventually became a bishop in the church and made several pilgrimages including one to Jerusalem during which, tradition states, he brought back with him a stone that now sits in an altar in the south transept of the cathedral.
The best-known miracle associated with David is said to have taken place when he was preaching in the middle of a large crowd at the Synod of Llanddewi Brefi. When those at the back complained that they could not hear him, the ground on which he stood is said to have risen up to form a small hill so that everyone had a good view. A white dove settled on his shoulder, a sign of God's grace and blessing.
David died in the year 589 AD and tradition says that the monastery was 'filled with angels as Christ received his soul'. His final words to his followers were:
'Be Joyful. Keep the Faith. Do the little things that you have heard and seen me do.'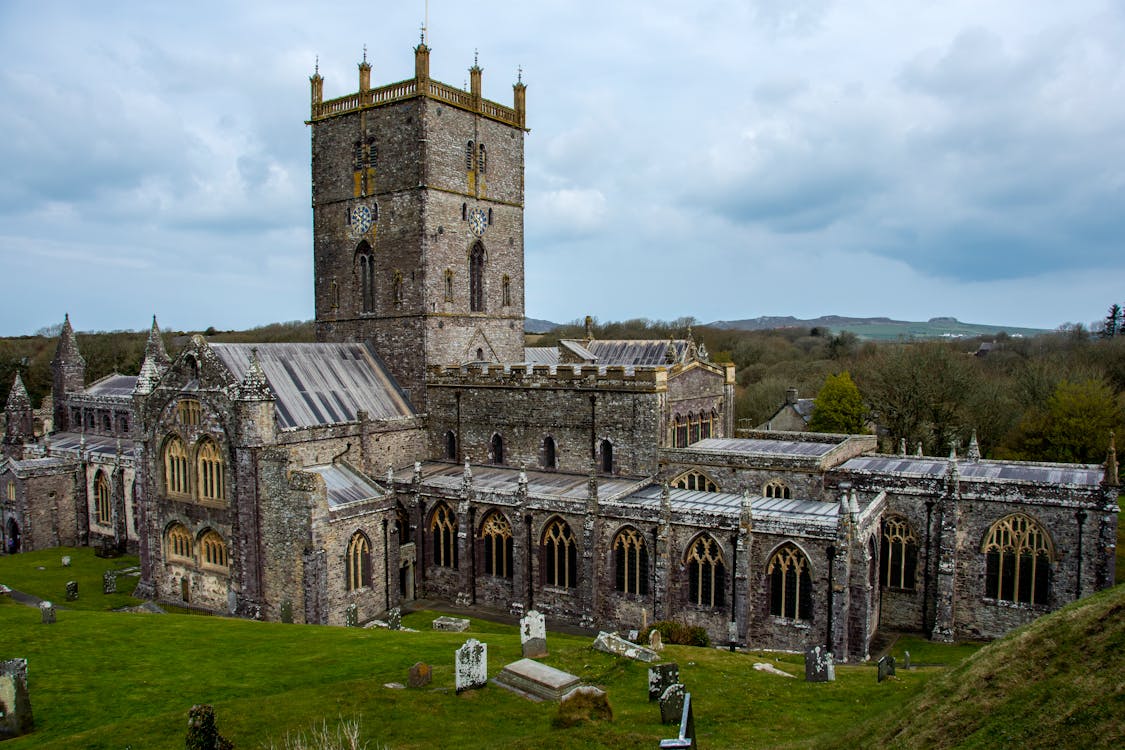 A PLACE OF PILGRIMAGE
In the twelfth century, Pope Calixtus II declared St Davids Cathedral to be a place of pilgrimage. Calixtus also stated that the shrine was so important that two pilgrimages to St Davids were equivalent to one to Rome, three were equivalent to one to Jerusalem. Since then the path of pilgrimage has been trodden by hundreds of thousands of individuals, who long to be closer to God by visiting a sacred place.
St. David's Day is 1st March. The cathedral's new Education & Pilgrimage Centre, Ty'r Pererin, offers extended hospitality to visitors to the cathedral, with particular emphasis on educational and spiritual activities around the Shrine of St David and pilgrimage. Since the opening, Ty'r Pererin has welcomed over thousands of children to the cathedral on visit programmes.
'Images and text provided with kind permission from the Dean and Chapter of St Davids Cathedral.

Can you see the white dove settled on David's shoulder? What does it mean to you? How does this connect to
this story about Jesus
?