RE:QUEST
A space for resources to help RE teachers and their students explore the Christian faith
"A huge resource to treasure."
Lat Blaylock, Editor, RE Today
We are delighted to share with you our library of resources. You can use the filter feature below to find topics most relevant to your curriculum.
Saint Piran
Why is Saint Piran so important?
St. Austell, St. Ives, St. Minver, Perranporth ... in Cornwall, saints are everywhere! Towns and villages are named after churches founded by them or dedicated to their memory.
Saint Piran Patron Saint of Cornwall Feast day: 5th March Saint Piran travelled through Wales, Cornwall, and Brittany, spreading the Christian faith and starting churches. It is thought that he arrived in Cornwall at Perranporth (Perran's Port), where he founded his first church and monastery in the sand hills at Perranzabuloe (Perran in the Sands). His shrine at Perranzabuloe was a popular place of pilgrimage in the Middle Ages.
Saint Piran's bones, bishop's crosier (staff), and copper bell were preserved there. St. Piran became the patron saint of tinners and miners, and his feast day on 5th March was celebrated in Cornwall by receiving a day off from work and a bonus of money.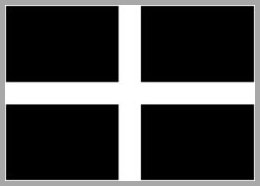 The Cornish flag is known as Saint Piran's Cross - a white cross over a black background, symbolising the Christian faith shining over lies, good over evil.
Although St. Piran is generally recognised as the Patron Saint of Cornwall, Saint Michael and Saint Petroc also have some claim to this title.
You can read about other Cornish saints here.
Perranporth