RE:QUEST
A space for resources to help RE teachers and their students explore the Christian faith
"A huge resource to treasure."
Lat Blaylock, Editor, RE Today
We are delighted to share with you our library of resources. You can use the filter feature below to find topics most relevant to your curriculum.
Jesus' Baptism
The different members of the Trinity appear together
Jesus had a cousin called John who baptised people. He was known as John the Baptist. John was a preacher. He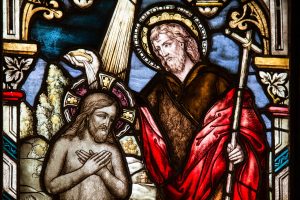 told people about God. He spoke to the crowds and told them that they should turn away from sin and live the good lives that God wanted for them.
By being immersed (or dunked!) in the water of the River Jordan, people showed their willingness to be washed from their bad ways and to try to live God's way from then on. John believed that he was preparing people for God's promised Messiah.
One day, Jesus came to the river to be baptised. At first, John was reluctant to do it, as he didn't feel he was good enough. But Jesus insisted. The Bible says that as John baptised him, the Spirit of God descended like a dove on Jesus and God spoke from heaven:
"As soon as Jesus was baptized, he went up out of the water. At that moment heaven was opened, and he saw the Spirit of God descending like a dove and alighting on him. And a voice from heaven said, "This is my Son, whom I love; with him I am well pleased." Matthew 3:16-17
This is a very important moment as it is the first time the Trinity is revealed to humans. All three members are present at the same time, doing different things:
Jesus is getting baptized.
The Holy Spirit is descending on him like a dove.
The Father is speaking from Heaven.
It is clear in this scene that each member of the Trinity is a separate person. 
Because of this happened, John knew that Jesus was God's Messiah.
Today, many Christians are baptised as a way of following Jesus. They want to show other people that, like John, they believe in him and want to live their lives according to what he said and did.