RE:QUEST
A space for resources to help RE teachers and their students explore the Christian faith
"A huge resource to treasure."
Lat Blaylock, Editor, RE Today
We are delighted to share with you our library of resources. You can use the filter feature below to find topics most relevant to your curriculum.
Easter: Chocolate Eggs
What has chocolate got to do with Easter?
Have you ever eaten an Easter egg? Which is your favourite kind?
On Easter Sunday, lots of people tuck into their chocolate eggs. But why do we give each other eggs at Easter? What do eggs have to do with the Easter story?
On Good Friday Jesus died on the cross. His friends were very sad; they had hoped that Jesus was a special person who was going to make life better for them, but now he was gone. But three days later, when they went to visit the place he was buried, they discovered his body was missing. While they were wondering where it had gone, they heard a voice. It was Jesus; he was alive!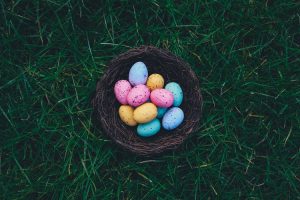 For many years, Christians have used eggs as a symbol, or picture, of what Easter means. The egg looks hard and cold, a bit like Jesus' tomb. But out of the egg comes a baby chick - a brand new life.
The disciples thought that Jesus was dead and buried. But out of the tomb came new life. For Christians, it is not just Jesus who had a new life at Easter.
Christians believe that because Jesus died and rose again, every person has the chance to live a special new life knowing God as their friend, forever. And why do we give each other chocolate eggs? Why not! After all, everybody loves chocolate! People used to decorate eggs in bright colours to celebrate Easter.
The first chocolate eggs were made in the early 19th century when chocolate makers could produce special egg-shaped moulds and they have been a firm favourite ever since!
Did you know? Hot cross buns were traditionally eaten on Good Friday. The 'cross' on the hot cross bun is a symbol of Jesus' death on the cross.