RE:QUEST
A space for resources to help RE teachers and their students explore the Christian faith
"A huge resource to treasure."
Lat Blaylock, Editor, RE Today
We are delighted to share with you our library of resources. You can use the filter feature below to find topics most relevant to your curriculum.
Christian Teachings on Social Justice
Social justice is a term that is used to mean that wealth and opportunities - such as education and health care - are equally distributed across the world.
Christians fully support social justice and will often be found devoting their lives to promoting it. You will find Christians of all denominations working across the world to help improve people's lives. They do this because they follow a God who is full of compassion, and they also want to follow the example that Jesus set.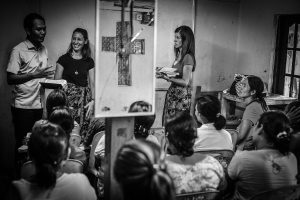 Some of the teachings in the Bible which shape their thoughts about social justice include:
The Parable of the Good Samaritan teaches Christians that they should care for all people, even those they don't know.
The Golden Rule teaches Christians that they should treat others the same way that they want others to treat them, giving them help when they are in need. 'Love your neighbour as yourself.' Luke 10:27
The Parable of the Sheep and the Goats teaches Christians that by helping others, they are actually helping God.
'So God created human beings, making them to be like himself. He created them male and female.' Genesis 1:27 This shows all are created by God, therefore all are equal.
In the Old Testament laws, God repeatedly commands people to care for widows, orphans, and 'the foreigner in the land.' Zechariah 7:10
Throughout the gospels, Jesus is shown treating people with agape love. This is the kind of love that is like God's for us: pure, sacrificial, and unconditional and should be shown to all people.
Situation Ethics
Along with the Bible, Christians also refer to situation ethics to help them make decisions. This is where Christians choose the course of action which is the most loving in any situation. It is very obvious that helping people to get the best out of life is a loving thing to do, therefore all Christians decide to promote social justice.
To learn about the way the Church works for social justice please click here.