RE:QUEST
A space for resources to help RE teachers and their students explore the Christian faith
"A huge resource to treasure."
Lat Blaylock, Editor, RE Today
We are delighted to share with you our library of resources. You can use the filter feature below to find topics most relevant to your curriculum.
What Does the Church do in the Local Community?
The Church plays a key role in the local community and, as such, is viewed as very important. The four key roles it plays in the community are:
1. Centre of Christian Identity: The local church provides people in its community with a sense of belonging and Christian identity. It does this by organising events that bring people together. Examples of this might include:
Children's clubs and youth groups, including Sunday School, where there are given opportunities to learn about God and mix socially with peers who have the same faith.
Social events and activities, such as coffee morning and fetes, where people can come together and share their faith.
Bible studies and Sunday services, where Christians can discuss their faith journeys and learn about God together.
2. Worship Through Living Practices: The local church provides opportunities for the community to celebrate special events such as Easter and Christmas. The church people mark special milestones in the life of their believers, on occasions such as baptism, marriage and funerals. These are known as rites of passage. 
3. Ecumenism: Christians from different denominations in the local community try to develop closer relationships and better understandings. They encourage unity because of their core shared beliefs; they are all followers of Jesus so share a common bond. To show unity they might organise and attend local events together. They may even share buildings and join up for Sunday services or Bible study.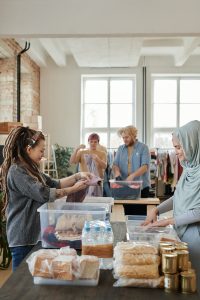 4. Outreach Work: Outreach involves Christians going out into their local community to serve the people within them. Many Christians devote time to volunteering; others choose to devote their career to community outreach. This might include:
Running a food bank, distributing food to the poorer members of the community.